Bildergalerie
Einzelnes Bild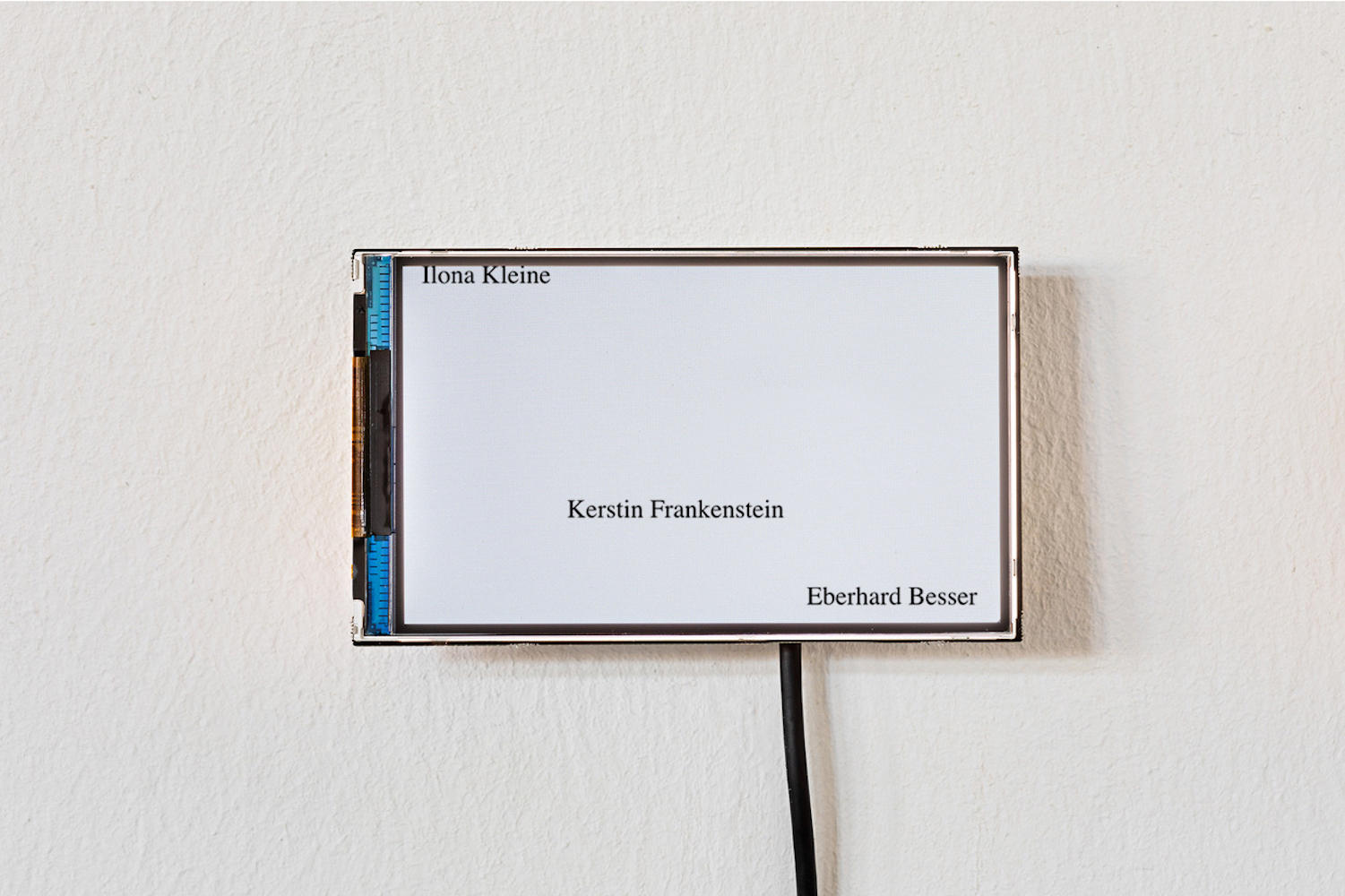 In the joint exhibition Leerlauf und: Warten auf Durchzug in the Kunstverein's showcases, Florian Deeg and Jáno Möckel examined the forgetting of places, objects, and human encounters. In their multimedia installation, Deeg and Möckel combined the process of preserving memories with the aesthetics of decay. For this purpose, they appropriated objects and places from everyday life. In a spatial installation whose aesthetics moved between shop window, office space and private interior, Deeg showed, among other things, the website he developed, leute-in-deutschland.de. The site features a one-time appearance of all the names that were listed in the German telephone directory in the fall of 2016.
The annual edition Kontakte ties in with this work, but follows different rules. Three minicomputers with displays each call one third of the names in the phone book. The names appear on the screen, coming from all sides of the display at different speeds. Based on the physical law of momentum conservation, the names move at a constant speed in a delimited digital area and increase in speed as soon as they collide with a name of greater mass. Deeg simulates miniature worlds in which names encounter each other as representatives of people based on physical laws and algorithmic randomness. Each name refers to a real person who lived in Germany in 2016. Collectively, the names are perceived as a social structure and yet remain abstract.
In his work, Florian Deeg (lives in Hamburg) deals with the possibilities and transitions of analog and digital models. He studied at the Hochschule für Bildende Künste, Hamburg in the class of Thomas Demand. Deeg received the Deutschland-Stipendium scholarship (2016) and exhibited at the Skulptur Quadriennale Riga (2016), Kunstverein Schwerin (2017), Künstlerinnenhaus Wendenstraße, Hamburg (2020), Spoiler Zone, Berlin (2021), among others. Deeg is nominated for the Hamburger Arbeitsstipendium 2022.