Jahresgabe
Naira Spraycans
Bildergalerie
Einzelnes Bild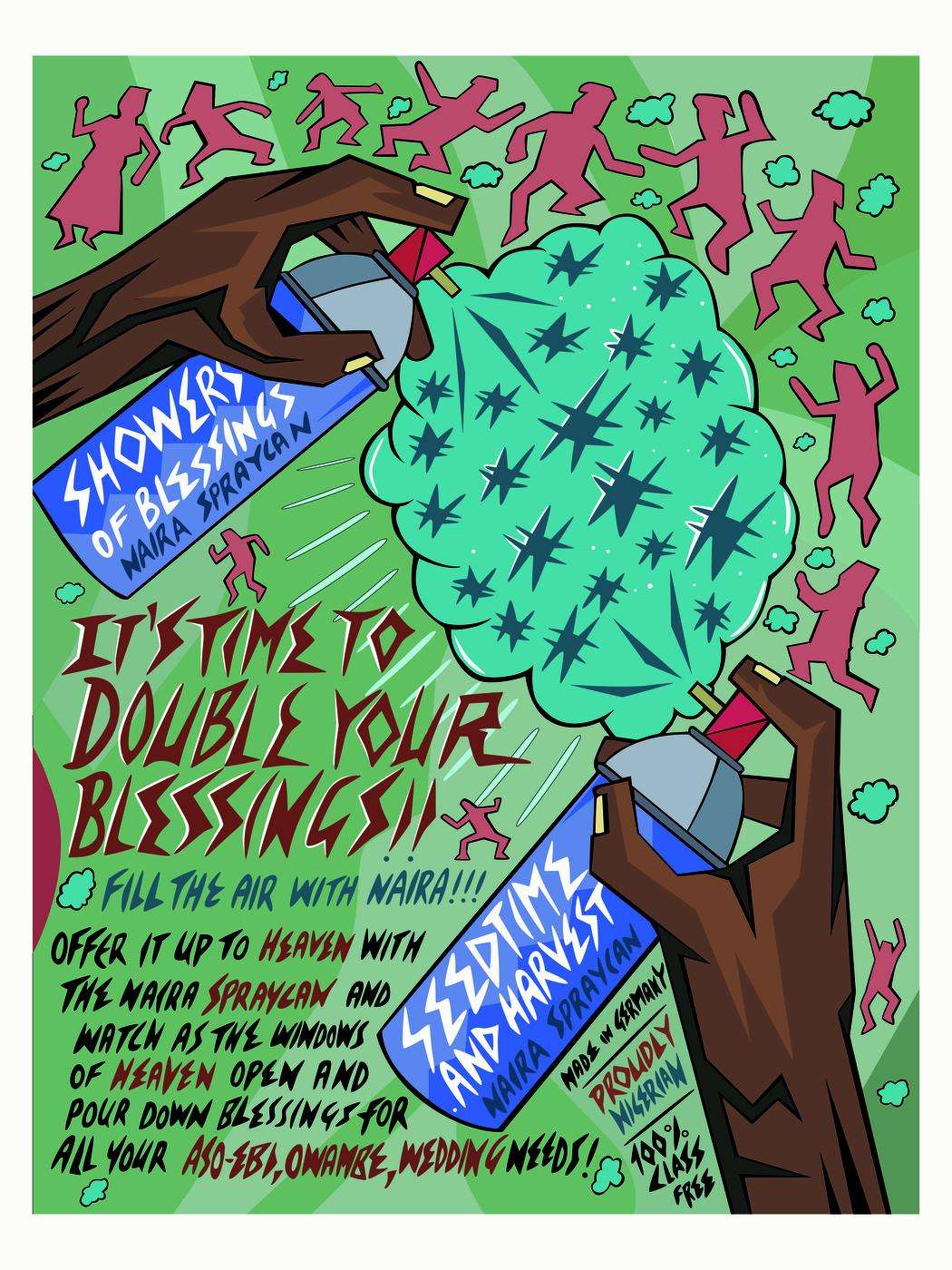 "The Lagos Drawings are inspired by the fast moving pop culture of Lagos, Nigeria. They reflect experiences and observations garnered from life in one of the fastest growing cities in the world. In these works, I appropriated the language of religion, politics and advertising to comment on contemporary
realities in the city. I try to represent its instability, just the constant motion."

Karo Akpokiere (*1981) studierte Kunst und Grafikdesign am Yaba College of Technology in Lagos, Nigeria. Seine textreichen, 'lauten' und überbevölkerten Zeichnungen sind visuelle
Referenzen an die südafrikanische Comictradition der Bitterkomix. Zugleich greifen sie eine spezifisch lokale Ästhetik auf, wie sie in der urbanen Graffiti- und Schriftkultur zu finden ist, beispielsweise auf den gelben Bussen in Lagos, die einen wichtigen Bestandteil des öffentlichen Lebens ausmachen: "I am trying to make contact with the people who do those drawing to collaborate".

Sein großes Interesse gilt zudem den Designmanifestationen einer bislang weitestgehend undokumentierten Geschichte des vorkolonialen Grafikdesigns sowie des Grafikdesigns nach
der Unabhängigkeit in den 1970er und 80er Jahren, das er sammelt und erforscht: "I realized the designers behind those works are nowhere to be found, we don't even know there names! Its is as though a whole generation of designers went underground."

Seine erste Einzelausstellung hatte Akpokiere 2011 am Goethe-Institut in Lagos. Im Jahr darauf nahm er an der ersten Lagos Bus Rapid Transit (BRT) Public Art Exhibition 2012 
teil, bei der Busse der Stadt seine Entwürfe trugen und auf allen Buslinien – von Lagos Island bis zum Festland – zu sehen waren.

Seine Serie Between Lagos and Berlin wurde 2015 auf Okwui Enwezors "All the World's Futures"-Ausstellung auf der 56. Biennale in Venedig gezeigt.