ADKV-ART COLOGNE Award for Kunstvereine
Body
The prize has been awarded by Arbeitsgemeinschaft Deutscher Kunstvereine (ADKV) in cooperation with ART COLOGNE since 2006. It honors associations with a particularly innovative program and mediation work.
Multi-Content
Spalte 1
Kunstverein Arnsberg and Kunstverein Harburger Bahnhof receive the ADKV-ART COLOGNE Award for Kunstvereine 2016
Berlin/Cologne, April 5th, 2016. An independent jury has chosen the Kunstverein Arnsberg and the Kunstverein Harburger Bahnhof in Hamburg as this year's winner of the €8,000 Award for Kunstvereine. Since 2006 the prize has been awarded by Arbeitsgemeinschaft Deutscher Kunstvereine (ADKV) in cooperation with ART COLOGNE.
The jury decided deliberately to divide the prize in order to emphasize the two equally valuable yet divergent concepts that each Kunstverein represents. They wanted to draw attention to the broad spectrum of Kunstvereine that in spite of their size still offer the highest level of curating and content.
In Arnsberg the focus is put on individual artistic positions and the specifics of the place, whether that be the spatial installation in the Kunstverein itself, the utilization of the Lichthaus or interventions in the urban space. The Kunstverein, established in 1987, has frequently been able to have a distinct influence transregionally and to consolidate a large number of young members, all in spite of being not being in the city.
The Harburger Bahnhof represents a discursive and thematic orientation. Putting new experimental exhibits, art education and archival formats to the test while changing curatorial leadership every two years has distinguished the work of this still-young Kunstverein. In a very short time the Kunstverein has acquired a widely respected position among the big Hamburg art institutions.
The high-level quality of the programming in both Kunstvereine is guaranteed by its curatorial management which in the case of many Kunstvereine of this magnitude is far from self-evident.
The 2016 jury members included: Heike Ander (curator at Glasmoog/ Kunsthochschule für Medien Cologne), Jörn Bötnagel (gallerist, Berlin), Ulrike Mohr (artist, Berlin), Ludwig Seyfarth (publisher and curator, Berlin) and Christoph Tannert (artistic director of Künstlerhaus Bethanien, Berlin).
In total 18 Kunstvereine were nominated for the prize this year. Kunstvereine in which ADKV board members are active as well as previous winners were not considered for the prize.
Previous prize winners include: Kunstverein for Rheinland and Westphalia, Düsseldorf (2015); Bielefeld Kunstverein (2014); Neuer Berliner Kunstverein (2013); Baden Kunstverein, Karlsruhe (2012); Kunstverein Nuremberg – Albrecht Dürer Society (2011); Cologne Kunstverein (2010); Heidelberg Kunstverein (2009); Salzburg Kunstverein and Westphalia Kunst Kunstverein, Münster (2008); Kunstverein Wolfsburg (2007); ACC Galery Weimar (2006).
The prize was awarded jointly with the ADKV-ART COLOGNE Award for Art Criticism on Saturday, April 16th 2016 in the TALKS LOUNGE in Halle 11.3 of ART COLOGNE. Reception: Daniel Hug, director of ART COLOGNE and Meike Behm, chairwoman of ADKV.
Bildergalerie in rechter Spalte
Einzelnes Bild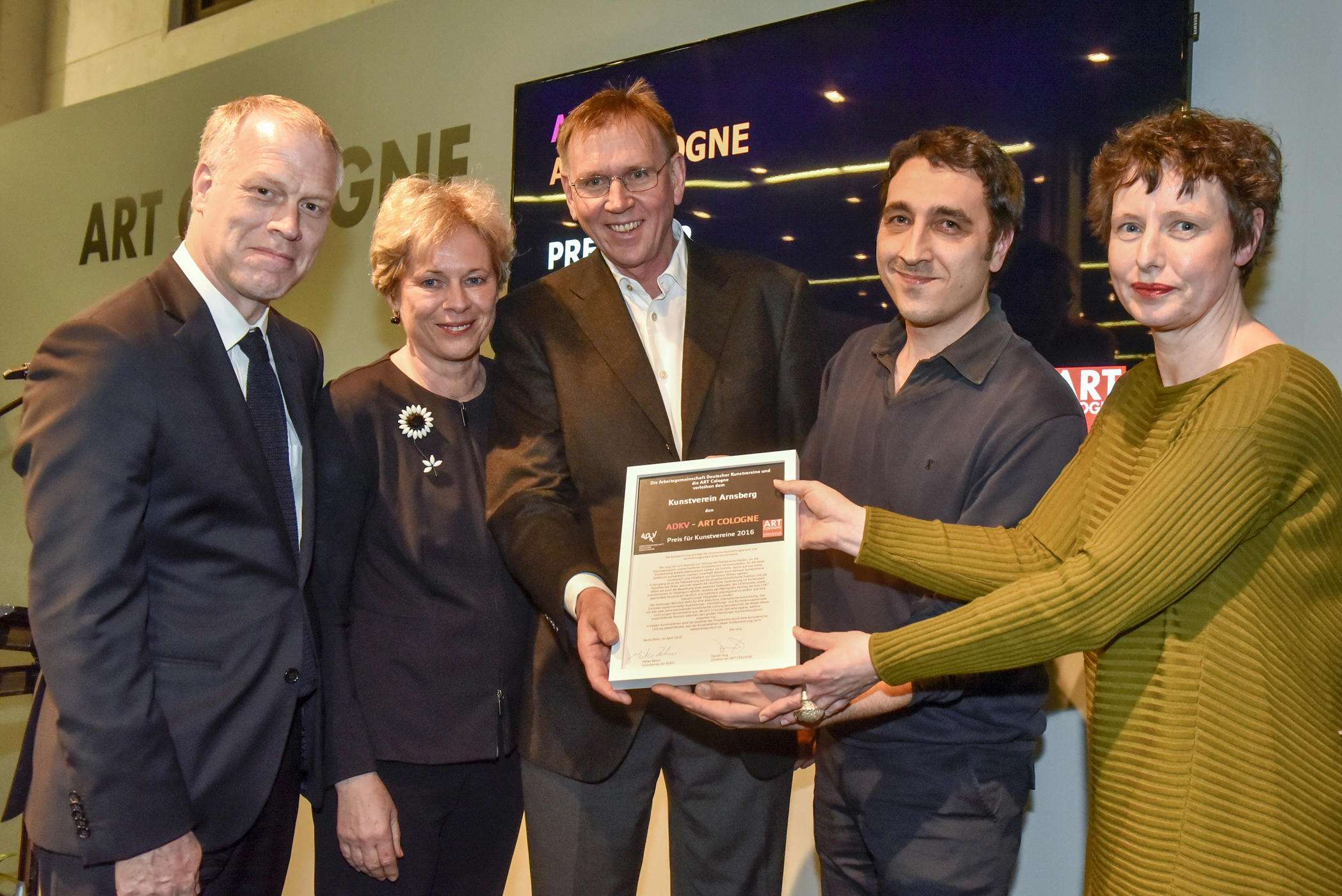 Credits
Photo: Art Cologne
Einzelnes Bild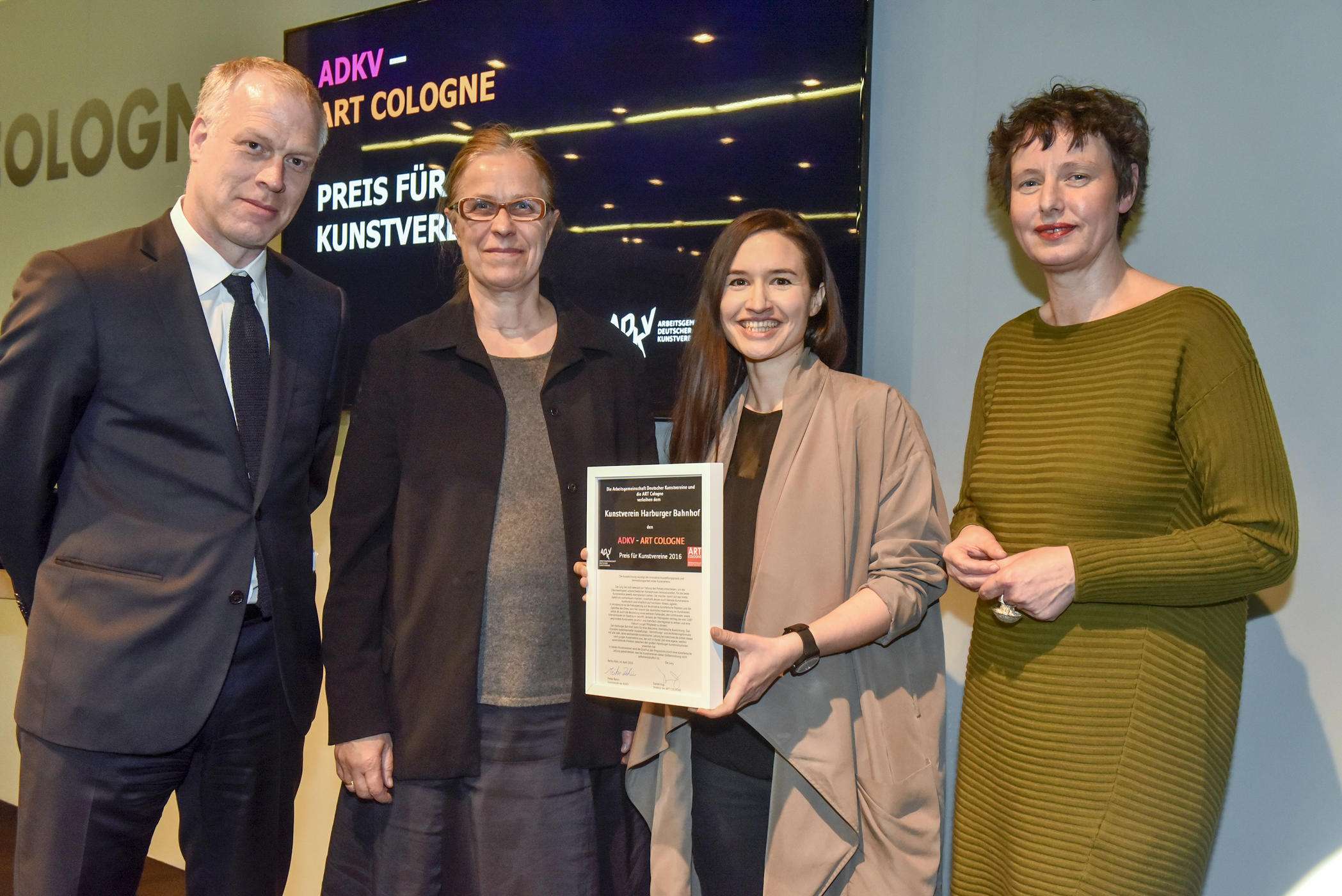 Credits
Photo: Art Cologne